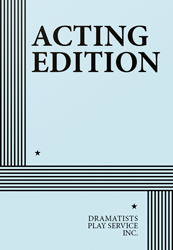 Full Length, Drama
11 men, 11 women
Total Cast: 22, Interior
ISBN-13: 978-0-8222-0099-4

THE STORY: As in its later and substantially re-written version (entitled ORPHEUS DESCENDING), the play deals with the arrival of a virile young drifter, Val Xavier, in a sleepy, small town in rural Mississippi. He takes a job in the dry goods store run by a love-starved woman whose husband lies dying upstairs, and his smoldering animal magnetism soon draws out her latent sexual passion. As it must, their liaison sets tongues wagging and invokes the scorn and jealousy of the townspeople, male and female alike. And, as the play probes ever more deeply and poignantly into the troubled psyches of its protagonists, a sense of inevitable tragedy grows, leading on to a denouement of overwhelming and chilling intensity.
This richly poetic early play by the author who has been widely hailed as one of our greatest playwrights is offered here in a revised version which was presented to great critical acclaim by New York's noted Circle Repertory Company. "…it is plainly the work of Williams in full glory. There is a wealth of poetry in its language, love and passion in its heart and master craftsmanship in its construction." —NY Post. "…an evening of renewal and reclamation." —NY Times. "…a major theater event." —Record.