The Butterfingers Angel, Mary & Joseph, Herod the Nut & The Slaughter of 12 Hit Carols in a Pear Tree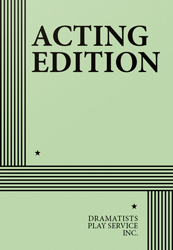 Full Length, A Christmas Entertainment
6 men, 4 women, 4 children
Total Cast: 14, Open Stage
ISBN-13: 978-0-8222-0168-7


MIN. PERFORMANCE FEE: $105 per performance.
THE STORY: Dealing with the story of Mary and Joseph and the birth of Jesus from a fresh and richly creative point of view, the author combines a series of deftly constructed short scenes, traditional Christmas music, and often antic characterizations into a wholly original theatre piece. The flow of the action follows the Biblical recounting, but is enhanced by a tree, a sheep and a donkey who talk (and most amusingly); a beguiling Mary who had heretofore decided that men and marriage were not for her; a suddenly cautious Joseph who now contends that he is too old for his intended (having earlier scoffed at Mary for expressing the same thought); and a flustered boy-angel who directs the action from a promptbook and manages to get only the most strangled, bleating sounds from his trumpet. But, through all the lively and resourceful happenings, the true significance of the occasion is never lost, and the underlying mood and spirit of reverence is, if anything, enhanced and made new by the distinctive approach of this joyful and unique retelling.
Created by one of America's major dramatists, this touching, funny and highly imaginative retelling of the Christmas story brings new relevance to its timeless subject.

"Angelic…beguiling wit and humor…as likeable as it is lively…" —Boston Herald-American.

"…a joyous celebration, a poignant tale…" —Syracuse Herald-Journal.

"…a gift of love and hope to the world." —Syracuse Post.