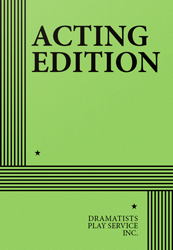 Full Length, Comedy/Drama
3 men, 4 women
Total Cast: 7, Exterior
ISBN-13: 978-0-8222-0498-5

THE STORY: A famous and successful architect, Harry Harrison (after confinement for a mental breakdown), can no longer accept the restrictions and second-rate standards of modern society. He cannot even bear to stay indoors and has, instead, set up his studio in a clearing in the woods. As he labors on a new and absorbing project his life is intertwined with others, family and friends, who, in various ways, love and admire him. From this skillful, and often funny, interplay of characters and action emerges an incisive and affecting indictment of our contemporary way of life—capped by Harry's decision to destroy his secret project, lest it too become merely a "container for people," rather than the work of art it was intended to be.
Winner of the Obie Award. A popular and critical success in its production by New York's prestigious Circle Repertory Company, this compelling, timely study of a sensitive man in rebellion against the tawdriness and banality of modern life marked the emergence of an important new voice in our theatre. "It is a life portrait of a community of unfinished people—destructive, self-destructive, yet surviving." —NY Times. "…lends new fascination to a time-honored theme: human alienation in technological society." —NY Post. "She is an excellent writer; every phrase falls right, and many of them fall humorously as well." —Village Voice.