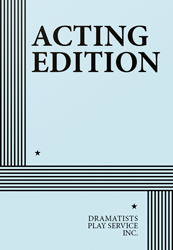 Full Length, Drama
10 men, 7 women
Total Cast: 17, Interior
ISBN-13: 978-0-8222-0533-3


FEE: $105 per performance.
THE STORY: The scene is the lobby of a rundown hotel so seedy that it has lost the "e" from its marquee. As the action unfolds, the residents, ranging from young to old, from the defiant to the resigned, meet and talk and interact with each other during the course of one day. The drama is of passing events in their lives, of everyday encounters and of the human comedy, with conversations often overlapping into a contrapuntal musical flow. In the resulting mosaic each character emerges clearly and perceptively defined, and the sum total of what they are—or wish they were—becomes a poignant, powerful call to America to recover lost values and to restore itself in its own and the world's eyes.
Winner of the New York Drama Circle Award, the Obie Award and the Outer Critics Circle Award. A brilliant Off-Broadway success by an outstanding playwright, which brings compassion, humor and arresting theatricality to its imaginative, touching study of lost souls trapped by society's inexorable decay. "…as good as you will find in the modern American theater…Wilson's writing is simply superb, a triumph of inspiration and craftsmanship." —Women's Wear Daily. "Mr. Wilson is both funny and sad about today, and the combination is an unbeatable winner." —NY Times. "…a warm, intelligent, wonderful evening in the theater." —Village Voice.