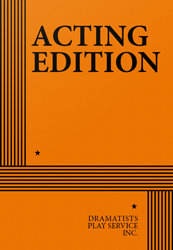 Full Length, Comedy
4 men, 5 women
Total Cast: 9, Interior
ISBN-13: 978-0-8222-1007-8


FEE: $105 per performance.
THE STORY: In the tiny living quarters behind the Greenwich Village candy store which she operates with her husband, crowded with her forty-year collection of movie magazines, Mildred Wild has virtually escaped from reality into the dream world conjured up by the 3,000 movies she has eagerly devoured. And when the outside world does intrude—via her husband; his meddling sister; their hard-boiled landlady; the mincing butcher from next door; or the foreman of the wrecking crew sent to tear down the building—Mildred meets each crisis with a hilarious fantasy-scene drawn from her precious lode of old movies. As the action moves swiftly ahead to its delightfully unpredictable climax, Mildred's life is further complicated by such unlikely visitors as a bulldozer, a nun, King Kong, and a super efficient TV camera crew, all adding to the merriment and, ultimately, to the poignancy which infuses the play and the touching, funny escapades of its kooky, lovable and totally enchanting heroine.
Marking an imaginative new departure for its Pulitzer Prize-winning author, this madcap, bizarre comedy (which starred Maureen Stapleton in its Broadway presentation) blends poignance, fantasy and offbeat hilarity in detailing the exploits of its wonderfully wacky heroine. "…an immensely funny, imaginative, inventive comedy…" —ABC-TV. "…n original talent for believable comic dialogue…" —Cue Magazine. "…comically irresistible…" —Associated Press.