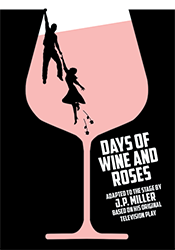 Full Length, Drama
10-15 men, 5-10 women and 1 girl
Total Cast: 16, Flexible Set
ISBN-13: 978-0-8222-0281-3


MIN. PERFORMANCE FEE: $105 per performance.
THE STORY: In the fast-moving milieu of Madison Avenue, social drinking is almost an occupational necessity, and one that fast-rising young Joe Clay adopts with too ready ease. Unfortunately the girl he meets and marries shares his proclivity, and while they continue to tell themselves that they drink because they choose to, it is soon apparent that their habit has become a serious problem. But their failure to acknowledge this plunges them headlong into the shattering events of the play—a career in shambles, a marriage destroyed, the esteem of friends and family lost, and a child who has become the innocent victim of their obsession. In the poignant ending of the play a spectre of hope arises but, more important, so does a galvanizing awareness of the depth of their torment, and of the lesson that their compulsive self-destruction must have for others.
Famed as perhaps the most renowned product of television's "golden era," and then a major motion picture starring Lee Remick and Jack Lemmon, this powerful, deeply moving drama is now available in a skillful and imaginative stage version prepared by the original author.