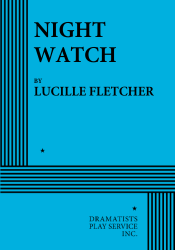 Full Length, Suspense
5 men, 4 women
Total Cast: 9, Interior
ISBN-13: 978-0-8222-0826-6


MIN. PERFORMANCE FEE: $130 per performance.
THE STORY: Unable to sleep, Elaine Wheeler paces the living room of her Manhattan townhouse, troubled by unsettling memories and vague fears. Her husband tries to comfort her, but when he steps away for a moment Elaine screams as she sees (or believes she sees) the body of a dead man in the window across the way. The police are called, but find nothing except an empty chair. Elaine's terror grows as shortly thereafter she sees still another body—this time a woman's—but by now the police are skeptical and pay no heed to her frantic pleas. Her husband, claiming that Elaine may be on the verge of a breakdown, calls in a lady psychiatrist, who agrees with his suggestion that Elaine should commit herself to a sanitarium for treatment. From this point on, the plot moves quickly and grippingly as those involved—Elaine's old friend and house guest Blanche; the inquisitive and rather sinister man who lives next door; and the nosy German maid Helga—all contribute to the deepening suspense and mystery of the play as it draws towards its riveting and chilling climax.
This ingeniously devised thriller builds steadily in menace and suspense until the final, breath-stopping moment of its unexpected, "twist" ending.

"A most superior thriller…which from its first blood-curdling scream to its last charming surprise is a first-class example of its genre." —The New York Times.

"…Miss Fletcher knows exactly what she is doing, goes about her business with gratifying swiftness and comes up with a finish worthy of one of Roald Dahl's little nifties." —New York Daily News.

"The call for a good American mystery melodrama was answered last night…fulfills all the requirements for an evening of satisfying menace and mystification." —New York Post.