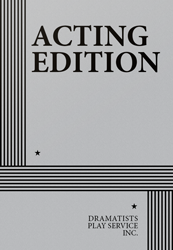 One Act, Drama
3 men
Total Cast: 3, Interior
ISBN-13: 9780822207450

THE STORY: Fascinating and dramatically compelling, this eloquent play depicts the supposed meeting of two of the most important men of modern times: Malcolm X and Dr. Martin Luther King, Jr. Differing in their philosophies, but alike in their mutual respect, the two men debate their varying approaches to the same grave social problems, both prepared to die for their beliefs but neither aware of how soon their assassins' bullets would await them.
"An exciting and provocative play, an unforgettable evening of drama." —NY Post. "Stirring moments of impassioned rhetoric you feel as if you've watched a kind of human-scale wrestling with angels." —San Francisco Examiner. "A remarkable, intensely intimate meeting full of undisguised competitiveness, deep passion and potent reasoning THE MEETING is enthralling." —Chicago Sun Times.