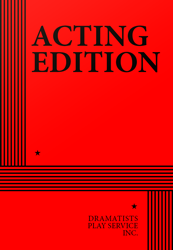 Full Length, Drama
16 men, 8 women
Total Cast: 24, Flexible Set
ISBN-13: 978-0-8222-1627-8


FEE: $105 per performance.
THE STORY: The setting is an all-night coffee shop on New York's upper Broadway, where the riff-raff, the bums, the petty thieves, the lost, the desperate of the big city come together. The movement of the kaleidoscopic in effect, a surging mosaic of overlapping and interrelating speeches and action as separate goals and characters are blended together around a common center. At the core of the play are Joe and Darlene, two young people who would seem to have the strength and the need to transcend the turmoil and ugliness of the life in which they found themselves—but are, instead, crushed by it. But their loss is quickly absorbed in the maelstrom, as the others go on desperately seeking the joy and release and purpose in life which will, most certainly, continue to escape them.
One of the milestones of the dynamic Off-Off-Broadway theatre movement, this vivid and powerful play, first produced by La Mama Experimental Theatre Club, illuminates the bleak and terrifying world of young exiles and outcasts in New York's upper Broadway area.