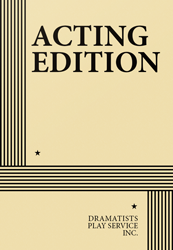 Full Length, Drama
Approximately 16 performers: minimum of 7 men, 7 women
Total Cast: 14, Open Stage
ISBN-13: 978-0-8222-1012-2

THE STORY: The Boston Herald Traveler comments: "While most of the work is choreographed movement, pantomime, human sounds and music made by bells, horns, whistles, tambourines and other hand-held instruments, there is an accompanying text from the Bible and a number of speeches with contemporary sentiments. From the beginning, man searches for happiness, for self-realization and union with other men, seems to be the underlying theme. He is thwarted by violence, both from within himself and from other men. Eve is tempted by the serpent in the Garden of Eden, yields, eats the forbidden apple, tempts Adam to eat, too—and man's eternal battle begins between self-gratification and obedience to external authority…There is a ritual enactment of the discovery of sexual love played by the group against the intoned recital of how the descendants of Adam begat the family of man that leaves little to the imagination. It is a passionate celebration of love. Passion gives way to maternal tenderness and the celebrants grow into doddering senility. They sink slowly to the floor and collapse into sleep. A hum starts and becomes a group song. 'We were sailing along on moonlight bay…,' they sing, rising and moving into the aisles and up the stairs. They're smiling and their looks of love embrace the audience. They finish singing and stand there. The ceremony is completed. THE SERPENT is a fascinating experience."
Winner of the Obie Award, Subtitled "A ceremony written by Jean-Claude van Itallie in collaboration with The Open Theatre under the direction of Joseph Chaikin," this brilliant and fascinating tour de force in contemporary improvisational theatre explores the Book of Genesis, and relates it to our modern experience with an eloquence and power which have earned it recognition as a milestone of the new American drama. "…the visual richness, intellectual wonder, and surprise of a mystery play, whose function is to outline the boundaries of the human experience." —Evergreen Review. "It is an extraordinary play, imposing, yet informal, continually surprising, and, to me, profoundly disruptive emotionally." —Village Voice. "…a theatrical master stroke." —The Christian Science Monitor.