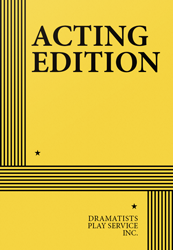 Full Length, Drama
4 men, 4 women
Total Cast: 8, Stylized Interior
ISBN-13: 9780822207863

THE STORY: As described in Fine Arts magazine: "In 1875, ten years after Lincoln's tragic death, his widow was declared insane and upon petition of her son, Robert, was confined in the Bethlehem Place Sanitarium, Batavia, Illinois, for about a year. Cullinan has set his play in the confines of this room and Mary Todd Lincoln recalls the incidents of her married life, far beyond the four walls that surround her. Cullinan's treatment is masterly. The rear curtain is divided into panels and as the mind of the woman wanders her thoughts take form. These scenes flash on from time to time as Mrs. Lincoln's wandering mind brings a new incident into focus. Always she is victimized; always each speaker is inimical in her deranged reasoning…In the second act another inmate imitates Lincoln at the doctor's orders in an effort to quiet the widow's mind. And in the final act, when time is nearing for her discharge, Robert calls on his mother and promises her a speedy release."
First presented by Ohio's famed Cleveland Play House, this remarkably inventive and exciting play probes into the dark corners of history to reveal the bizarre but affecting story of Abraham Lincoln's widow in the bitter years after his assassination. "It is an absorbing, engrossing and literate play…" —Cleveland Plain Dealer. "…a mixture of tragedy and comedy…an evening of theatre that is both entertaining and informative." —Cleveland Press.