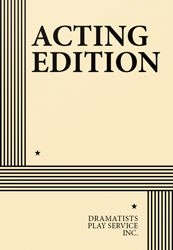 Full Length, Comedy/Drama
2 men, 1 woman
Total Cast: 3, Flexible Set
ISBN-13: 978-0-8222-0615-6

THE STORY: Lot is a weak and ailing youth who suffers from an attachment to the memory of his late mother. He has come to his ancestral home, a derelict house on the edge of a soon to be flooded river, with his new bride, Myrtle, a television actress. Somewhat reminiscent of Blanche Dubois from Williams's classic play A Streetcar Named Desire, Myrtle is a luckless young woman trapped in a world of romantic illusions, one of which is to nurse Lot back to health so they can consummate their marriage. Myrtle soon discovers, however, that Lot only wants to use her to steal the deed to the property from his embittered half-brother, Chicken, a Stanley Kowalski type, brimming with masculinity and assertiveness…and a few romantic plans of his own.
(Produced in New York as The Seven Descents of Myrtle.) This sensitive yet frequently humorous play abounds with the brilliant characterizations and probing dramatic confrontations for which Mr. Williams is so justly celebrated. "…one of his best, which is high praise for any play." —NY Daily News. "…contains some of the distinguished dramatist's most probing and compassionate reflections on lost souls of this sad world." —NY Post. "The characters are clear, lifelike and interesting…a sensitive and moving drama…" —Variety.