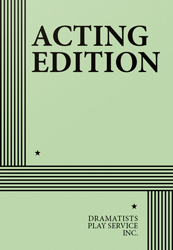 Full Length, Melodrama
3 men, 2 women
Total Cast: 5, Interior
ISBN-13: 978-0-8222-0328-5


MIN. PERFORMANCE FEE: $105 per performance.
THE STORY: As The New York Herald-Tribune outlined: "…in the Vermont village of Greenfield Center, there is a genial, benevolent and greatly loved old physician who is very proud of his community. It is peopled with fine, wholesome folk, and it appears that Heaven rewards the civic virtue by seeing to it that mostly only those who are wicked at heart die. And the good Dr. Cook, who is willing to go out on sick calls at any hour of the day or night, is determined it should stay in that fortunate condition. When a young physician, who had known and loved Dr. Cook for years, returns to the village for a visit, he is delighted to see his venerable friend and benefactor again. Then a problem of medical ethics arises to haunt him. It may, he concedes, be excusable for a doctor to kill off incurable patients and the hopelessly deformed. But he thinks it is going too far to do away with disagreeable people who happen to be a blot on the fair community." And it is his attempt to make his mentor see reason on this point that brings on the gripping climax of the play, in which the two doctors, young and old, are pitted against each other in a scene of unforgettable, breath-stopping suspense and high drama.
A chilling suspense melodrama, the play is concerned with an idyllic New England town and the kindly doctor who would keep it that way—by any means necessary.

"…theatrical excitement…moments of effective menace…" —New York Post.

"…aimed for suspense and goose pimples…" —New York Daily News.