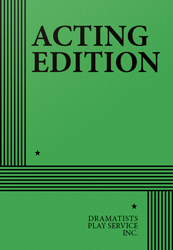 Full Length, Comedy
4 men, 2 women
Total Cast: 6, Interior
ISBN-13: 978-0-8222-0351-3

THE STORY: Set in a factory boiler room, with the main prop the boiler itself, a great hiccuping, squealing, roaring, glug-glugging behemoth, the play details the plight of a hardy individualist caught in the over-protective web of mechanized, computerized and dehumanized modern industry. In this case the victim is one Valentine Brose, who takes a job pushing buttons and reading gauges, but whose defiant spirit will not let him knuckle under to the machine. To the exasperation of the long-suffering Works Manager, the Freudian-centered lady Personnel Director and the omnipresent local parsons, Brose comes and goes as he pleases, confounds them all with his circuitous and unanswerable retorts, moves his bride into the boiler room with him, and raises enormous hallucinogenic mushrooms in a crate in the corner. The monkeyshines never cease, as Carnaby Street-suited Brose forgets to push the right button at the right time, clambers about the hissing, belching boiler in desperate attempts to stave off explosive destruction, and turns a deaf ear to the exhortations and "mood music" which boom persistently from the plant loudspeaker. In the end Brose, the free spirit, emerges undaunted and unbowed, with the disconcerting (to others) discovery that perhaps his vision-producing giant mushrooms may offer the key to survival in this "better" world of electronic ease. At least they produce bizarre results—as unpredictable, wild, funny and refreshingly unrestrained as the play itself.
Winner of the Obie Award. First produced in London by the Royal Shakespeare Company, this wildly funny, trenchant farce went on to become one of Off-Broadway's greatest successes as well, with Dustin Hoffman starring. "…highly, beautifully stylized, zany, nutty farce…" —NY Times. "…a comedy of incongruity, unpredictability, originality and farcical absurdity." —Time Magazine.