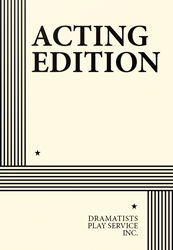 Full Length, Comedy
2 men, 1 woman
Total Cast: 3, Exterior
ISBN-13: 978-0-8222-0709-2


FEE: $105 per performance.
THE STORY: As described by the New York Times: "When the play begins there is Harry Berlin, looking like a shaved, mustachioed beatnik who has sunk so low that honest beatniks would disown him. He has no future except to jump off the bridge and is about to do so when Milt Manville comes along and intervenes. Milt and Harry turn out to be college classmates. As Harry, in his rags, slowly drops hints of his tale of woe, Milt, a picture of prosperity, is all sympathy. But LUV has ample place in its bosom for more than one miserable fellow. Milt is also full of frustration, for his wife won't release him and let him marry the girl he loves. Presently Milt's wife, Ellen, appears. As she stands under a lamppost, her expression congealed and fur-coated body rigid, it is clear that she, too, is torn by anguish. Now we have a triangle matched in misery. Milt has had an inspiration. Why not bring Ellen and Harry together and thus win the freedom to marry the other girl? But Ellen looks despairing; she needs sprucing up. Milt tidies her dress and slip, combs her hair, rouges her lips, powders her cheeks, delicately touches up her eyelashes and sprays her with perfume. Could a husband be more tender with a wife he hopes to palm off? The events that follow need not be detailed. All you will wish to know is that whatever marriages are made and unmade, Milt, Ellen and Harry end up in sorrow and agony, and the greater their misunderstandings and problems, the more you laugh."
One of Broadway's brightest comedy hits. A wildly funny spoof of avant-garde drama which makes high comedy of the nagging indignities which flesh is heir to. "…an evening of unalloyed pleasure, of sustained and perfect comedy, of total, tempestuous and glorious glee." —NY World-Telegram & Sun. "…the answer to a theater-goer's prayer." —NY Herald-Tribune. "…delicious spoof on a multitude of matters…" —NY Times.