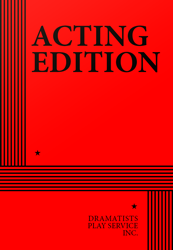 Full Length, Comedy
2 men, 4 women, 1 boy
Total Cast: 7, Interior
ISBN-13: 978-0-8222-0252-3


MIN. PERFORMANCE FEE: $105 per performance.
THE STORY: The New York Times outlines: "The hero is a drama critic…What is the most searching way to test this paragon's integrity? Have his wife write a play. A stinker, naturally…He heckles the little woman, tells her she won't finish the play, and, when it is completed, candidly informs her that it's awful. And what's worst of all, he insists that on opening night he will do his duty like a man; he'll review the play himself. There you have the beginnings of the problem. There are complications…Our hero, Parker Ballantine, has a flock of them… His first wife, Ivy, played Helen of Troy, and he panned and lost her. There is a son by this marriage, a saucy, precocious lad who evidently will come to no good—the poor shaver, heaven save the mark, is a critic in embryo…But Parker Ballantine does not let his son—or his tremulous fellow-critics—down. He gets looped with the charm and wit possible only to a critic. He invites his first wife, the sexy Ivy, to rub his back while he goes through his searing crisis. And then, leaving the TV dinner of Beef Stroganoff to burn, he pulls himself together, dashes to the theatre and writes the review…" Its effect is to send his wife into her understanding director's arms, at least until our hero redeems himself by admitting that he's been pretty nasty about the whole thing all along. But as for her play—well, it is a stinker, and he'll never yield his integrity on that.
"…it is so disarming that it could, if it gets around (and I'm sure it will), make the nation's youth aspire to become drama critics instead of firemen and baseball players." —New York Daily News.

"…fresh and funny." —The New York Times.