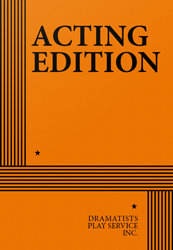 Full Length, Seriocomedy
4 men, 5 women
Total Cast: 9, Interior
ISBN-13: 978-0-8222-0887-7

THE STORY: As described in the NY Times: "Mr. Williams is telling the story of two marriages at points of acute crisis. One couple has just broken up after five years together. The other has not been able to come to terms in one day of wedlock. Both couples are living through a period of adjustment. The phrase is tinged with irony. The play examines the sources of the crisis. Ralph Bates, a former war hero, has in-law trouble. George Haverstick, a war buddy who unexpectedly visits him on Christmas Eve with his bride of a day, has the shakes; his difficulty seems to be a fear of impotence. The end is happy, as comedy requires. The four go to bed—in the right combinations." In calling his play a "serious comedy," Mr. Williams puts his finger on its most unique aspect, for this is a work which combines a humorous viewpoint with deep-seated concern for a very real, human situation.
The first full-length comedy by the playwright whom many consider to be the finest of our times. "It is, quite simply, a resounding success. It has warmth and wisdom, and hilarious good humor…" —NY Journal-American. "There are lines that sparkle with freshness of insight. There are scenes that erupt with laughter. There are affecting passages of barely articulated tenderness." —NY Times. "It's a believable evening, it's probably even a wise one. And the heart, which the author has plainly got, is wonderfully protected by humor." —NY Herald-Tribune.