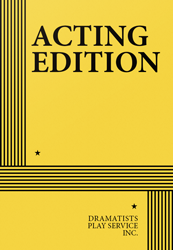 Full Length, Comedy
25 men, 12 women, 3 boys (these include numerous bit parts, and extensive doubling is possible)
Total Cast: 40, Interiors/Exteriors
ISBN-13: 978-0-8222-1730-5


FEE: $105 per performance.
THE STORY: This fabulously successful hit hardly needs introduction. Besides being the source for one of America's most popular musicals, AUNTIE MAME set a standard for Broadway comedy that's been sought after ever since. "Auntie Mame was a handsome, sparkling, scatterbrained and warm-hearted lady who brightened the American landscape from 1928 to the immediate past by her whimsical gaiety, her slightly madcap adventures and her devotion to her young nephew, who grew up to be Patrick Dennis. Through fortunes that rose and fell and a pleasant but brief marriage to a likable Southerner, who had the bad luck to tumble down from the Matterhorn, Auntie Mame's chief concern was that nephew, whom she raised…[the play's] central figure is a woman of spirit, innate kindness and undefeatable courage…" —NY Post.
Based on the novel by Patrick Dennis. A triumph on Broadway, and a great road success. "A towering and tremendous hit…" —NY Journal-American . "Lawrence and Lee have fashioned a thunderbolt of fun from the Patrick Dennis bestseller." —NY Mirror. "A jumping joyride, I came away with a grin as big as a pumpkin's." —NY Herald-Tribune.