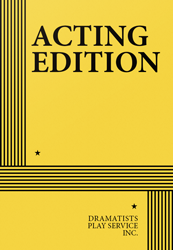 Full Length, Comedy
34 men, 3 women (of the 34 men, several parts can be doubled)
Total Cast: 37, Flexible Set
ISBN-13: 978-0-8222-0829-7


MIN. PERFORMANCE FEE: $105 per performance.
THE STORY: NO TIME FOR SERGEANTS' central figure is a husky and good-natured hillbilly who finally gets into the Air Force despite his father's propensity for tearing up his draft papers. His determination to be transferred to the infantry soon spells trouble among generals and sergeants, his fellow service men and, in particular, a military psychiatrist. Thus begins the desperate efforts of the Air Force to classify this highly unclassifiable mountain boy. Not miffed, our hero is soon sent off on what becomes a comic voyage, in an airplane manned by some weary flying officers, most suffering from hangovers. Even though the plane does get lost and heads towards an atomic explosion in Yucca Flats, the hilarity of the play's endearing hero leaves few moments to contemplate the ensuing disaster.
One of the funniest plays ever seen on Broadway, with a warm and affectionate quality that is rare in comedies.

"Take a simple and lovable innocent, guileless, gullible and without malice, and place him in juxtaposition to the pompous earnestness of military discipline and bureaucracy, and you have the springboard for mockery that can be both devastating and heartwarming…its gift for uproarious lampooning is matched only by its genial good nature." —New York Post.