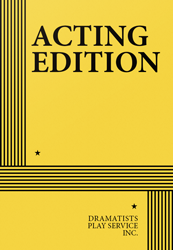 Full Length, Drama
10 men, 9 women
Total Cast: 19, Interior
ISBN-13: 978-0-8222-0865-5


MIN. PERFORMANCE FEE: $130 per performance.
THE STORY: In ORPHEUS DESCENDING, a handsome, stoic musician, Val Xavier, descends on a repressive Southern town. He finds work in a dry-goods store owned by the tyrannical but terminally ill Jabe Torrance; the store's daily operations are overseen by Jabe's wife, Lady. Tragedy in Lady's past drove her to Jabe, and her life since the marriage has been one of desperate loneliness. Val, with his exotic seductiveness and undeniable talent, might offer Lady an escape route to a happier future—if the town doesn't destroy them both first.
"…because of the power and the brilliance and the humor of his writing, it emerges as a consistently moving and captivating experience…the author has done a masterful job of getting inside his characters." —New York Journal-American.