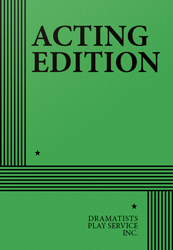 Full Length, Drama
12 men, 3 women
Total Cast: 15, Interior
ISBN-13: 978-0-8222-1209-6


MIN. PERFORMANCE FEE: $130 per performance.
THE STORY: As told by the New York Daily News, "… is a tragedy in the classic form and I think it is a modern classic…the central character is a long-shoreman who, though his mind is limited and he cannot find words for his thoughts, is an admirable man…When two of his wife's Italian cousins—submarines they are, in the waterfront argot—are smuggled into this country, he makes room for them in his home. Gratefully they move in among his wife, his children and the teen-age niece whom he has brought up and whom he has come to love, he thinks, as a daughter. And now the stage is set for tragedy. One of the illegal immigrants has a family in Italy for whom he is working; the other young, extraordinarily handsome, and exceedingly blonde, is single. He wants to become an American, and he falls in love with his benefactor's niece. If he marries the girl he will no longer have to hide from immigration officials. A monstrous change creeps up on the kind and loving uncle. He is violently opposed to this romance and is not intelligent enough to realize that this opposition is not motivated, as he thinks, by a dislike of the boy and a suspicion that he is too pretty to be a man, but by his own too intense love for his niece. Not even the wise and kindly neighborhood lawyer can persuade him to let the girl go. This is an intensely absorbing drama, sure of itself every step of the way. It makes no false moves, wastes no time and has the beauty that comes from directness and simplicity."
Originally produced on Broadway as a long one-act, A VIEW FROM THE BRIDGE has been reworked by the author into a full-length play.