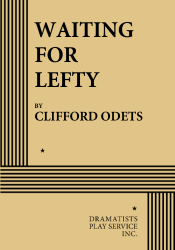 One Act, Drama
12 men, 2 women (doubling)
Total Cast: 14, Flexible Set
ISBN-13: 978-0-8222-1215-7


MIN. PERFORMANCE FEE: $75 per performance.
THE STORY: WAITING FOR LEFTY is a series of varied episodes that blend into a powerful mosaic of the American working class. We begin in a hiring hall where a union leader (obviously in the pay of the bosses) is trying to convince a committee of workers (who are waiting for their leader, Lefty, to arrive) not to strike. Through flashback and vignette, we then visit a discouraged taxi driver in confrontation with his wife, who wants him to show some backbone and stand up to his employer; an employee promised a major promotion in exchange for spying on a fellow worker; a young cabbie and his would-be bride who lack the wherewithal to get married; and a senior doctor charged with dismissing a bright, promising intern.
First presented in 1935 by the famous Group Theatre, WAITING FOR LEFTY is one of the most celebrated and significant plays of the modern American theater.