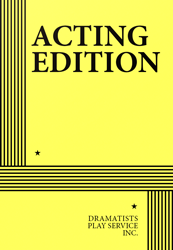 Full Length, Drama
6 men, 3 women, extras
Total Cast: 9, Simple Stylized Sets
ISBN-13: 978-0-8222-1174-7


MIN. PERFORMANCE FEE: $130 per performance.
THE STORY: Horton Foote's moving play tells the story of Carrie Watts, an elderly woman, who longs to escape the cramped Houston apartment where she lives with her protective son, Ludie, and her authoritarian daughter-in-law, Jessie Mae.Carrie wants to return to her beloved hometown of Bountiful, Texas, one final time before she dies. While Ludie is at work and Jessie Mae is at the drugstore, Carrie escapes to the bus station and befriends a young woman named Thelma. The new friends travel toward Bountiful together, but when Carrie arrives in nearby Harrison, Texas, she begins to learn that her beloved town isn't the same as she remembered it.
First presented on television and then produced on Broadway. "THE TRIP TO BOUNTIFUL is about the myth of an idea called home. Mr. Foote creates characters, nearly all of whom come from the same stretch of provincial Texas, who long to believe in the reality of real estate, that a house is a fortress and an anchor in a world of threatening flux. But this bleakly sentimental playwright is as merciless as he is compassionate. Home is only an illusion for his people, and everyone is ultimately an orphan, even when surrounded by family." —NY Times "I've never been more deeply moved by a theatrical production of any kind." —Wall Street Journal "…the rarest of theater experiences, an evening which will prove an indelible memory…Horton Foote has done, and done beautifully, the one thing it is important for a playwright to do. That is, provide the disciplined material for expert actors to completely capture an audience and hold it through the evening." —NY World-Telegram.