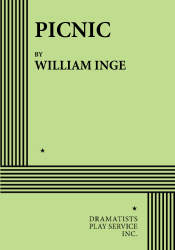 Full Length, Drama
4 men, 7 women
Total Cast: 11, Flexible Set
ISBN-13: 978-0-8222-0892-1


MIN. PERFORMANCE FEE: $130 per performance.
Winner of the 1953 Pulitzer Prize for Drama.

THE STORY: The play takes place on Labor Day weekend in the joint backyards of two widows. One house belongs to Flo Owens, who lives there with her two daughters, Madge and Millie, and a schoolteacher boarder. The other house belongs to Helen Potts, who lives with her elderly and invalid mother. Into this female atmosphere comes a young man named Hal Carter, whose animal vitality seriously upsets the entire group.
Winner of the New York Drama Critics' Circle Award for Best American Play.

"Few writers have captured women in their social environments as well as William Inge and it's in that respect that PICNIC, which won the Pulitzer Prize in 1953, retains its power." —CurtainUp.