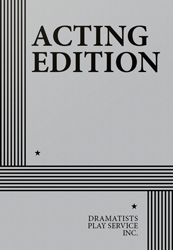 Full Length, Drama
4 men
Total Cast: 4, Almost The Only Setting Required Is Four Double Bunks For War Prisoners, A Pile Of Straw And Some Empty Mattresses
ISBN-13: 978-0-8222-1040-5


MIN. PERFORMANCE FEE: $105 per performance.
THE STORY: A highly imaginative, poignant drama about four prisoners of war locked up in a church in enemy territory. Thus confined, their problems are magnified as they struggle to understand themselves and the world. The action comes in a sequence of dreams in which each prisoner demonstrates his own inner response to events—extending himself, his companions, and the problems they face on to a spiritual plane. The immediate surroundings suggest Biblical protagonists to each dreamer, and the attempted murder of one soldier by his friend is seen successively as the story of Cain and Abel, of David and Absalom, and of Abraham and Isaac.
An impressive religious play, in verse. Intended for production in a church, it may also be produced in any theater. Though the play is offered without intermissions, and is in a single act, the manner of its production makes it practically a "full-length" play.