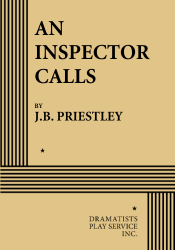 Full Length, Drama
4 men, 3 women
Total Cast: 7, Interior
ISBN-13: 978-0-8222-0572-2


MIN. PERFORMANCE FEE: $130 per performance.
THE STORY: The action of the play occurs in an English industrial city, where a young girl commits suicide and an eminently respectable British family is subject to a routine inquiry in connection with the death. An inspector calls to interrogate the family, and during the course of his questioning, all members of the group are implicated lightly or deeply in the girl's undoing. The family, closely knit and friendly at the beginning of the evening, is shown up as selfish, self-centered or cowardly, its good humor turning to acid, and good fellowship to dislike, before the evening is over. The surprising revelation, however, is in the inspector—who turns out to be no copper at all but a mysterious individual with full knowledge of everyone's connection with the suicide. After the false inspector has been shown up, and it is discovered that no suicide had been recorded, an actual copper shows, and a last-minute suicide is reported, which ties in mysteriously with the foregoing.
"…an engaging play… Its mood is sustained throughout, so that it is practically always interesting." —Variety.