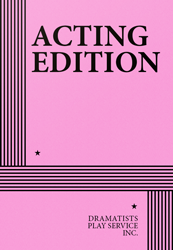 Full Length, Melodrama
3 men, 5 women (one female part may be played as a male)
Total Cast: 8, 4 Simple Sets
ISBN-13: 9780822208556

THE STORY:Nellie is a long-suffering young lady who seems destined not only to lose her lover but her life as well. The familiar characters of old-time melodrama here play their roles up to the hilt. The most thrilling scene is that in which dynamite (planted by the villain) is about to blow all the good characters to eternity. Just in time, however, Lucy picks up the dynamite and throws it out the door. On reflection, though, it seems that the thrill just described is actually topped by the even more exciting scene in the sawmill, where Nellie, tied to a log, is approaching the circular saw which in a moment will tear her to pieces. The hero, who has been tied by the villain, is freed just in time to thrust aside the latter who draws a pistol on him and threatens to kill him if he dares touch the lever that will save Nellie. The villain fires. The hero is wounded. And, at this very instant, a friend opportunely appears to snare the villain, and Nellie is safe in the arms of her hero.
The text includes a discourse on methods of preparing a drama of this nature for the stage. There are also descriptions of scenery, costumes, properties, sound effects and lighting, together with suggestions for incidental music and entr'acte entertainment.