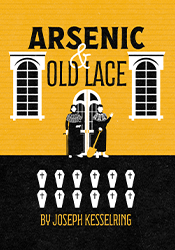 Full Length, Comedy
11 men, 3 women (of the 11 men, some are minor bit parts)
Total Cast: 14, Interior
ISBN-13: 978-0-8222-0065-9


MIN. PERFORMANCE FEE: $130 per performance.
THE STORY: We meet the charming and innocent ladies who populate their cellar with the remains of socially and religiously "acceptable" roomers; the antics of their nephew who thinks he is Teddy Roosevelt; and the activities of the other nephew—these require no further description or amplification here. ARSENIC AND OLD LACE is a must for all nonprofessionals, a ready-made comedy hit.
The famous comedy success produced a smash hit in New York and on the road. One of the most popular plays in our catalogue.