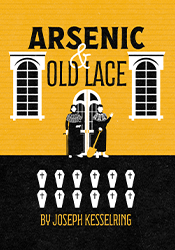 Full Length, Comedy
11 men, 3 women (of the 11 men, some are minor bit parts)
Total Cast: 14, Interior
ISBN-13: 978-0-8222-0065-9


MIN. PERFORMANCE FEE: $130 per performance.
THE STORY: Drama critic Mortimer Brewster's engagement announcement is upended when he discovers a corpse in his elderly aunts' window seat. Mortimer rushes to tell Abby and Martha before they stumble upon the body themselves, only to learn that the two old women aren't just aware of the dead man in their parlor, they killed him! Between his aunts' penchant for poisoning wine, a brother who thinks he's Teddy Roosevelt, and another brother using plastic surgery to hide from the police—not to mention Mortimer's own hesitancy about marriage—it'll be a miracle if Mortimer makes it to his wedding. Arsenic and Old Lace is a classic black comedy about the only thing more deadly than poison: family.
The famous comedy success produced a smash hit in New York and on the road. One of the most popular plays in our catalogue.