I'll be Home for Christmas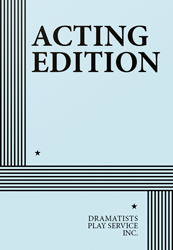 THE STORY: I'LL BE HOME FOR CHRISTMAS is light and humorous, but at base it is serious and touching as it shows a mother and father discussing the sex education of their almost-adult children, a girl and boy. The father is quite moving when he learns in a letter that his son is cutting adrift from the parental harbor.
I'LL BE HOME FOR CHRISTMAS is one of the four plays comprising YOU KNOW I CAN'T HEAR YOU WHEN THE WATER'S RUNNING, one of the most successful comedies in Broadway history. The warm-hearted quartet of hilarious short plays originally starred Martin Balsam, Eileen Heckart, George Grizzard, and Melinda Dillon in a variety of scintillating, diversified roles. The topic is sex, in all its mysterious and fascinating manifestations, and the treatment of this is so skillful, tasteful, and explosively funny that the plays are not only captivating and touching, but universal in appeal. "Everything about this production of four short plays has a masterly light touch…we have a delightful gift of springtime in the Broadway theatre." —NY Daily News. "The best and brightest new American play of the season…" -NY World Journal Tribune. "…notably fine comic and dramatic episodes, written with skill and insight…" —NY Post.