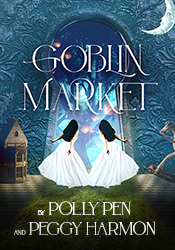 THE STORY: Two proper Victorian sisters, both now grown women and mothers, return to their childhood nursery to relive the haunting memories of their youth. Magically, they are transported back to their girlhood, as their nursery becomes a woodland glen peopled by bizarre goblins who entice them with luscious fruits and promises of unimagined ecstasies. One of the sisters, Laura, partakes of the forbidden offerings, while her sibling, Lizzie, bargains desperately with the fey creatures to save her from inexorably falling under their spell. Blending music, poetry and entrancing imagery, the play is a dazzling journey through the psyches of the two sisters as they struggle to regain the present and to reconcile the fervent, erotic yearnings of their adolescence with the matter-of-fact world that they now inhabit. Happily they succeed, but their voyage in and out of the past—and through the labyrinths of their vivid imaginations—weaves an enchanted spell that will linger long in the memory.
A brilliantly atmospheric, totally original "mini-musical" which probes into the sexually charged fantasies of two sisters who relive their childhood experiences in an imaginary world peopled by seductive goblins.

"…an entrancing expedition to 'Those pleasant days long gone/Of not-returning time.' " —The New York Times.

"…an absolutely gorgeous piece of Victorian erotica." —New York Post.

"GOBLIN MARKET is a spellbinding, highly imaginative mini-musical…" —Variety.

"…one of the season's few genuine successes. It's certainly in a class by itself." —New York Daily News.