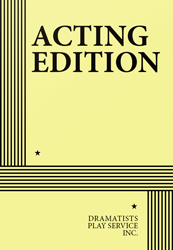 Full Length, Comedy/Drama
2 men, 5 women, 1 girl (flexible casting)
Total Cast: 8, Flexible Set
ISBN-13: 9780822215035

THE STORY: Val, a matriarch, comes to live with her daughter, Jackie. Jackie, recently divorced and having lost custody of her daughter, takes her mother in willingly but also enlists her in a crusade to convert everyone to a Jehovah's Witness. The two women comb the neighborhoods with religious magazines, shoring up Jackie's faith and killing Val's optimism, not to mention her feet! Val's other daughter, Maggie, surfaces after a long absence to be told that her mother thinks she's dead—since Maggie vanished years ago, Jackie just thought it easier to lie. Maggie's trying to kick her drinking habit and hearing this news doesn't help. Reacquainted with her slightly surprised mother, Maggie tries to be the ear Val needs when she can't stand living with either Jackie's fanatical ways or her newfound zealot boyfriend, Chris. Val runs away, but Maggie can't take her in. The hilarious yet dark situations continue as: Jackie develops questions about her faith, and her new husband; Maggie finds sobriety; and grand-mother Val hangs out to help her other granddaughter, Marlene, through it all.
"There are plenty of laughs in Keith Reddin's BRUTALITY OF FACT…a sequence of short, punchy scenes in which the playwright explores a family that is terminally dysfunctional…Credit Reddin's quirky way with dialogue and oddball confrontations. Some of his scenes could stand as fully formed mini one-act plays." —Copley News Service. "In BRUTALITY OF FACT, the playwright continues to plumb the void of modern life and to expose our attempts to fill them. Like most of Reddin's work, BRUTALITY is written in brief, seamless, rapid-fire scenes…full of smart, snappy dialogue." —Chicago Sun-Times. "In his smart and painfully funny new play, BRUTALITY OF FACT, Keith Reddin's…dialogue is so funny…that the play…becomes a resounding triumph of laughter over despair…a painfully funny view of our ongoing struggle to make sense out of human existence." —Daily Herald.