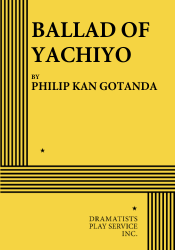 Full Length, Drama
3 men, 4 women
Total Cast: 7, Flexible Set
ISBN-13: 978-0-8222-1547-9


MIN. PERFORMANCE FEE: $105 per performance.
THE STORY: The time is 1919, a period of limited prosperity for Japanese families toiling in the sugarcane fields of the Hawaiian islands. Yachiyo, a young peasant girl, is destined for life in the fields and for a marriage to Willie, a lowly worker. Cashing in on an old family dept, she is sent by her parents to board with a pottery artist, Hiro Takamura, and his wife, on a distant island where she will learn proper Japanese manners and traditions. The education that she receives is more about life's cruelties than its civilities. Hiro, consumed by bitterness over his father's success, is a perfectionist potter stuck in a loveless marriage. While his wife waits for him to learn to love her, she mentors Yachiyo on how to ascend the social ladder and in doing so becomes her confidant. Hiro is inspired by the young visitor and his pottery flourishes as Okusan begins to become suspicious of her husband and Yachiyo's growing fascination with him. The story unfolds with Yachiyo's discovery of life's beauties, her sexual awakening and the infinite possibilities that ultimately lead to a tragic end.
Philip Kan Gotanda is the winner of the 2020 Legacy Playwrights Initiative Award

A provocative play about innocence, passion and betrayal, set against the backdrop of a Hawaiian sugar plantation in the early 1900s.

"Gotanda's writing is superb…a great deal of fine craftsmanship on display here, and much to enjoy." —Variety.

"…one of the country's most consistently intriguing playwrights…" —San Francisco Examiner.

"As he has in past plays, Gotanda defies expectations…" —Oakland Tribune.