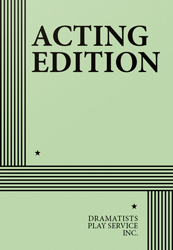 Full Length, Drama
3 men, 2 women, 1 boy or girl, 1 musician
Total Cast: 7, Flexible Set
ISBN-13: 978-0-8222-1520-2


FEE: $105 per performance.
THE STORY: Focusing on Dickens' powerful language, humor and warmth, this charming version of A CHRISTMAS CAROL simply and directly tells the story of the redemption of a human soul. The play follows the ever-powerful story of Scrooge, a lonely miser, who, through the help of spirits and visions from his past, present and future, finds a second chance to become a loving, generous human being. Adapted for a company of six actors, accompanied by a fiddler, the play requires a minimum of sets, costumes and props. It begins with a child reading the story for the first time. As the scenes are played out behind him, the child becomes totally caught up in the story and is finally invited by the other characters to enter the play as one of them. With traditional carols and English folk tunes creating the proper atmosphere, the world of Scrooge, Fezziwig and Tiny Tim comes alive, igniting the holiday spirit for young and old alike.
"…an excellent stage adaptation of Charles Dickens' classic A Christmas Carol…[it] captures all of Dickens' delightful language, and delights the eye as well as the spirit…A CHRISTMAS CAROL is a great Christmas present for the whole family." —Lewiston Sun-Journal. "Schario's staged adaptation was sparkling with clarity and fun…" —Portland Press Herald. "Schario's adaptation of Dickens's classic story rejuvenates this familiar tale…vividly told and richly interpreted…The story is staged so theatre's magic is exposed." —Times Record.