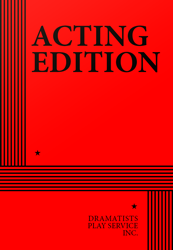 Full Length, Drama
3 men, 4 women
Total Cast: 7, Flexible Set
ISBN-13: 978-0-8222-1387-1


FEE: $105 per performance.
THE STORY: At an archeological dig in the Midwest, a party of university scientists are unearthing vestiges of a lost Indian civilization. Heading the group is Dr. Howe, accompanied by his wife and daughter, and by a younger associate and his wife. They are all joined by Dr. Howe's sister, a famous and jaded novelist, who is "drying out" after many years of dissipation in remote parts of the world. There is also an outsider, the acquisitive son of a local landowner, who wants the digging site to be turned into a commercialized tourist trap. Interweaving past and present through the use of slides, the action of the play probes into the lives—and conflicts—of these disparate people. Their story evokes resonances that illuminate what we are and will surely become, and which underscore the irony of our collective blindness to the disturbing lessons that a close study of the past must inevitably reveal.
Winner of the Obie Award for distinguished playwriting. Successfully presented both on the stage by New York's Circle Repertory Company and on national television via the PBS "Theatre in America" series, this probing, eloquent play finds a chilling relevance for the present—and future—in the unlocked mysteries of the past. "It is probably Mr. Wilson's most profound and resonant play to date. It is original and brilliant and sends you out onto the street with your mind spinning cartwheels." —WQXR Radio. "…there is fabulous beauty in the play's writing." —NY Post. "THE MOUND BUILDERS is among the five or ten most significant American plays of the decade." —Village Voice.