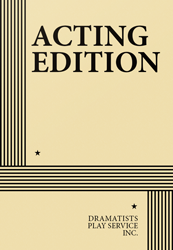 One Act, Comedy/Drama
1 man, 1 woman
Total Cast: 2, Interior
ISBN-13: 978-0-8222-0110-6


FEE: $40 per performance.
THE STORY: The setting is a large tent, where two flower show exhibitors have sought refuge from a sudden rainfall. She (Ms. Joslyn) is visibly annoyed at the curt treatment that the judges have given her "Little Soldier" and makes no bones about it. He (Mr. Wasserman) is equally dismayed by the fate of his "Little Tanya," but is too soft-spoken and retiring to vent his anger. They both agree that if the judges are getting soaked it serves them right, but Mr. Wasserman's attempts at friendly conversation are confounded by Ms. Joslyn's close-mouthed surliness. But gradually it develops that (a) they happen to admire each other's creations (unlike the judges) and (b) they are near neighbors—all of which leads in time to the realization that if it proved possible to combine the color of his "Little Tanya" with the texture of her "Little Soldier" a new strain of flower would result which even the most obtuse of judges would be dazzled by. Quivering with anticipation they prepare to leave, as the sun comes out, and the prospect of future glory sends them resolutely back to their test beds and potting sheds.
A warm-hearted and gently humorous study of two frustrated flower breeders, whose disappointment, (and annoyance) at having their creations rudely passed over at a flower show, is alleviated by the momentous realization that the cross-breeding of their two would-be champions should produce an unbeatable new strain which will surely rock the horticultural world!