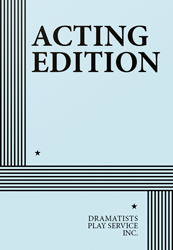 One Act, Comedy
2 men, 1 woman
Total Cast: 3, Flexible Set
ISBN-13: 978-0-8222-1470-0


MIN. PERFORMANCE FEE: $55 per performance.
THE STORY: A young man and woman meet at a party, and their immediate romantic attraction is translated into comically unromantic grammar lessons as they struggle to free themselves from the banal constrictions of party talk.