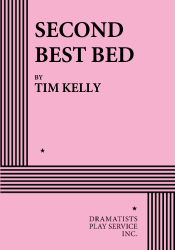 One Act, A Romantic Speculation in One Act
8 women
Total Cast: 8, Interior
ISBN-13: 978-0-8222-1005-4


MIN. PERFORMANCE FEE: $55 per performance.
THE STORY: One of the most fascinating mysteries dealing with William Shakespeare is the fact that he left his wife, Ann Hathaway, nothing but his "second best bed." This odd bequest has puzzled biographers for centuries. The play opens as several gossipy neighbors visit Anne's cottage. They already know of the bequest and are anxious to see Anne's reaction when she hears the news, which is about to be delivered by Shakespeare's two daughters, Judith and Susanna. The women are cheated out of their amusement by Anne's fierce faith in her husband, even though his wealth has been left to others. However, the bard was never one to leave things as they seem and by curtain time Anne has discovered just how greatly Will loved and needed her. It's a surprise ending that catches not only Anne unaware but the audience as well. A delightful romantic comedy, extremely simple to stage. About twenty minutes.
Ideal for play contest and school use, this charming short play for an all-girl cast combines comedy and suspense in delving into the circumstances of Shakespeare's will, and the odd bequests it contained.