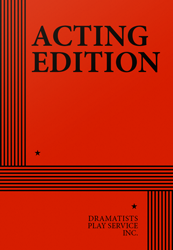 Full Length, Drama
4 men, 3 women (flexible casting)
Total Cast: 7, Flexible Set
ISBN-13: 9780822216049

THE STORY: "HELLCAB is a seventy-minute collection of scenes from a day in the life of a Chicago cabbie. Beginning with a 6:30 a.m. trip by a born-again couple…the cabbie's long day's journey proceeds with fares from, among many others, a dangerous trio of druggies, a piggish mini-capitalist, a benumbed rape victim, an argumentative pair of fellow cabbies, a drunken woman on welfare, a smug lawyer, a randy couple on the way to a motel, and two boisterous New Yorkers out on the town. Alternately frightening, hilarious and poignant, these sharply etched blackouts and cameos…are capped by a stunning and very touching final scene. Despite rough language and some truly nasty bits, [the play] is a joyous and spirited choice for the Christmas season. HELLCAB [is] a real joy ride." —Chicago Tribune.
"Kern has faithfully captured the open-faced trust of prairie people, Midwesterners who are acquainted with adversity but who still maintain a Sandburgian awe of the world around them…these [characters] create a theater that is more a mirror to, rather than a window into, the American soul." —LA Weekly. "HELLCAB has been a hell of a success in America…It is easy to see, to feel, its pull. The device is perfect: social and moral commentary by way of fleeting scenes, snatches of lives famed by those few minutes in the cab…It wears this weight of realism with buoyant lightness: fast, wisecracking, relentlessly moving on just like that cruising cab." —The Scotsman (Edinburgh). "Whether you see the play as a portrait of embattled human decency, or a study of the intricacies of race, poverty and urban desperation…HELLCAB is equally rewarding." —The Times (London). "HELLCAB is great—a must-see for anyone interested in sharp, off-beat performances…HELLCAB has a heart inside its gritty exterior, and a love for humanity, warts and all. Don't let this unlikely joyride pass you by." —BackStage.