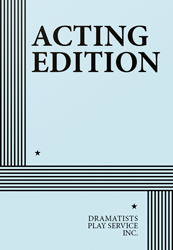 Full Length, Dramatic Monologues
3 men (flexible casting)
Total Cast: 3, Flexible Set
ISBN-13: 978-0-8222-1614-8


MIN. PERFORMANCE FEE: $105 per performance.
THE STORIES: Some guys are leaders, some guys are joiners, some guys are Stray Cats. This collection of musically influenced monologues portrays nine "cats" as they hit bottom, paint themselves into a corner, or reach a moment of transcendence.

The nine lives include: ALONE, BUT NOT LONELY: Tom "shares" at a twelve-step support group on Valentine's day.

THE POEM WRITER, who after having a little too much to drink, delivers a bitter, funny, self-loathing, self-aggrandizing speech to the Poem Writers Guild.

AN LA AGENT TALKS ABOUT LOVE, or more accurately about power and abandonment—love Hollywood-style.

GOOD-BYE, JACK: A kid works the drive-thru window at Jack-in-the-Box. The night they take the clown away he realizes he's "just another little drive-thru guy in orange and brown, alone on the graveyard shift."

JOCKO THE CLOWN, backstage in a moment of crisis, suffers from extreme "mime block."

OL' GATOR is an aging TV weatherman who has been kicked off the air for politically incorrect statements. His farewell apology skids into a near breakdown.

DIARY OF A VOYEUR chronicles a writer, who instead of meeting his deadlines, spends months obsessing and writing about a couple in a window across his courtyard.

THE NIGHT ALI LOST: A lifelong men's room attendant at the Roseland Ballroom relates with grace his point of view of the Big Band era, racism and bodily functions.

JAGUAR JESUS: A young man listens to a street saxophone player. The two trade riffs, each "stroking the night, blazing out of control."
"Warren Leight's STRAY CATS'…heart lies in a romantic, rain-swept world where jazz is the soundtrack…Leight's writing assumes electric cadences…CATS fosters a similar connection between playwright and theatergoer." —Variety.

"Warren Leight's evening of nine male monologues…STRAY CATS, is hilarious and chilling and confirms Leight…as one of our most exciting new playwrights." —Westsider.

"The nine lives of STRAY CATS are of men of different ages and different times…The pieces are very much concerned with the uses of languages. Some are poetic, some fairly graphic, and many of Leight's quirky observations and characterizations really resonate…you're left with the loneliness of these nine lives, knowing each character has only the one life to live." —Backstage.