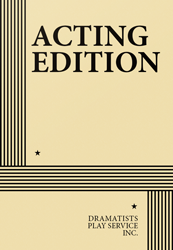 One Act, Drama
3 men, 4 women (extras, voices, etc)
Total Cast: 7, Interior
ISBN-13: 9780822210597

THE STORY: A mystery thriller, the tale of a neurotic invalid, whose only contact with the outside world is her phone. Over this, one night, because of a crossed wire, she hears plans for a murder, which turns out to be her own. Her frantic efforts to enlist help through the only means at her disposal, her growing terror and realization of the truth, and (along the way) the hints about her own life and personality she lets drop, make this a full character portrait not only of herself but of the unseen murderer, whose identity and motivations are surmised but never revealed. A tour de force of acting for the female star, who commands the stage throughout, this play also picks up through the many phone calls, personality vignettes of the outside world, including gangsters, phone operators, a police sergeant, etc., each of which is distinct and of vital importance to the storyline. The play has been adapted by the author for an easy stage presentation, which should be as telling as the original radio version; although both have been made available in this present printing.
This radio classic, originally done by Agnes Moorehead on Suspense, was one of radio's ten "bests" and is still being repeated as an outstanding study in suspense.