Thirteen Things About Ed Carpolotti (Hatcher)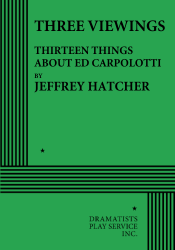 One Act, Short Play
1 woman
Total Cast: 1, ISBN-13: 978-0-8222-1494-6


MIN. PERFORMANCE FEE: $55 per performance.
Part of volume,
Three Viewings
.
THE STORY:
THIRTEEN THINGS ABOUT ED CARPOLOTTI is the story of Virginia, the widow of a wheeler-dealer contractor, who discovers that her husband has left her in debt to the banks, her family and the mob. As Virginia struggles to escape her creditors and understand how her husband could have left her in such pain and doubt, a mysterious list of "thirteen things" embarrassing to Ed is offered to her if she can come up with one million dollars in three days. Virginia doesn't have the money, but she does have hidden resources and is saved by an unseen benefactor. As the play ends, Virginia's benefactor is revealed, along with what the mysterious "thirteen things" are—revelations that resurrect the love and trust thought lost forever.