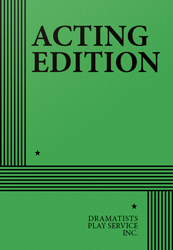 Full Length, Comedy
3 men, 2 women, 2 non-speaking roles
Total Cast: 5, Flexible Set
ISBN-13: 978-0-8222-1622-3

THE STORY: A comedy in six scenes, four dreams and seven wigs. There are two ways to produce this play: 1) with good wigs; or 2) with bad wigs. The second way is preferred. Myrna and Myra, almost identical twins, battle each other through the Eisenhower, Nixon and Reagan/Bush years over virginity, Vietnam and Family Values.
"Ms Vogel's script is most ingenious…The sisters' opposition, neatly representing the schism between right and left in the United States, is self-destructive, and each subliminally longs for connection with the other…As the nightmare spins itself out, fears of nuclear attack, sexual predation and familial estrangement meld in a way that haunts even as it teases." —NY Times. "The political and cultural divides of American life are roundly decried even as they are exuberantly spoofed in Paula Vogel's THE MINEOLA TWINS, a bright cartoon of a play…Vogel's text is…like The Carol Burnett Show with a political consciousness…its go-for-broke adventurousness is endearing, and it's…divinely funny." —Variety. "…floating above the ostensible story of twin sisters who take opposite paths in life is an allegory of the last half century of our crazed and splintering sociopolitics, while deep down are hints of a buried prototype…one of those '50s teen chick-exploitation flicks contrasting a 'good' and a 'bad' girl…Vogel succeeds in creating an event that's at once frothily light and almost bewilderingly dense…one liners are dropped casually in and left to detonate, key bits of narrative are elliptically jumped over. Between trying to catch the jokes as they whiz by and filling in the data blanks, you get an effect like that of an intellectually provocative video game: The effort it takes is repaid by the fun you have keeping up with it." —Village Voice. "THE MINEOLA TWINS…bursts forth in its glory…a funny, perceptive, biting take on The American Woman. Vogel was never more political and never more on target." —BackStage.