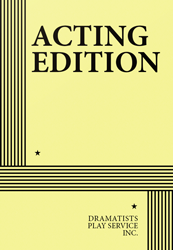 One Act, Short Play
1 man, 3 women, 1 child
Total Cast: 5, ISBN-13: 978-0-8222-1448-9


MIN. PERFORMANCE FEE: $55 per performance.
THE STORY: 1-900-DESPERATE. Gretchen, nagged by her mother about her empty love life, calls a romance talk line and finds only other women and one young man named Scuzzy. When a five-year-old child dials by mistake, Gretchen finds his innocent babbling preferable to all the adults. In volume entitled NAOMI IN THE LIVING ROOM AND OTHER SHORT PLAYS.