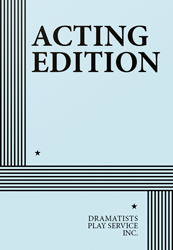 THE STORIES: THE OBSERVATORY. Running into an old, attractive paramour can cause mixed feelings when you find out she's the one who told your wife about the affair, causing your divorce. (1 man, 1 woman.)

DEARBORN HEIGHTS. In a home-style diner, in Dearborn Heights, Michigan, two young women discover the meaning of racism and friendship, all before lunch is served. (2 women.)

HOME. A divorced daughter arrives home to live with her mother, after taking off in a van twenty-five years earlier. She not only discovers her now aging mother has troubles of her own, but that compromise, and an old house, will make it all work. (2 women.)
Three lively and touching plays produced by Ensemble Studio Theatre as part of their Marathon of One-Act Plays for 1995 and 1996.