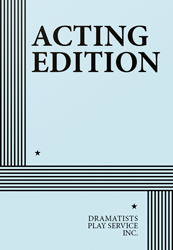 Full length, Comedy/Drama
1 man, 3 women
Total Cast: 4, Interior
ISBN-13: 978-0-8222-1642-1


MIN. PERFORMANCE FEE: $105 per performance.
THE STORY: In World War II Harlem, New York, a fifty-five-year-old spinster (or as they were called in those days—an Old Settler), Elizabeth Borny, takes in a young male roomer, Husband Witherspoon, to help her with the rent. Husband has come to Harlem from South Carolina to search for his girlfriend, Lou Bessie Preston. Also living with Elizabeth is her sister, Quilly McGrath, fifty-three. There is an ominous cloud of tension that hangs over Elizabeth and Quilly's relationship. This tension is further exacerbated when Elizabeth and Husband take to liking each other. Quilly, who doesn't like Husband living with them in the first place, surely doesn't approve of their "carrying on," especially since Elizabeth is old enough to be Husband's mother. It is this "carrying on" that exposes a thirty-year-old wound which, until now, only had a bandage—now the wound can heal for the sisters.
"THE OLD SETTLER [is]…Redwood's gentle, sweet-natured comedy about life in Harlem in 1943. It's a play that chooses to remember the good without the bad, being about the relationship of two aging, church-going sisters…and what happens when a handsome young fellow, newly arrived from the Deep South, rents a room in the apartment they share…For all of its decent sentiments, THE OLD SETTLER avoids sentimentality. It has the authenticity and lack of pretense of an Early American sampler." —The New York Times.

"…good naturalism does more than reproduce: It listens with passion and humor, and it shapes what it hears into powerful form…THE OLD SETTLER by John Henry Redwood…presents the lives of two fortyish sisters…Mr. Redwood has said he modeled these sisters on his mother and aunt. It's a lovely play, moving in its pretty unsurprising central anecdote and more moving in its densely textured picture of Harlem life in 1943." —Wall Street Journal.

"The poignancy of dashed hopes and the simplicity of human survival will always make the stuff of drama. As will a last chance at love. John Henry Redwood's warm and audience-friendly THE OLD SETTLER…hits its target fair and square. There is more humanity and truth here than in many plays superficially far more fancy…Redwood writes with telling conviction…Redwood's command of time, place and character is itself impeccable…We've had some fine plays Off-Broadway this season, and this is one of the best. With all its sentiment, and its heart so pointedly in the right place, it still skillfully avoids heartless sentimentality, making it very much worth seeing." —New York Post.