Lighting Up the Two-Year Old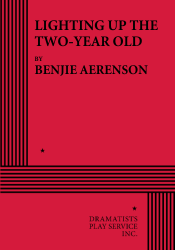 Full length, Comedy/Drama
3 men
Total Cast: 3, Flexible Set
ISBN-13: 978-0-8222-1648-3


MIN. PERFORMANCE FEE: $105 per performance.
THE STORY: Take three men who each have a lot to lose if a horse farm goes under, and a thoroughbred with a lot of insurance on him, and you have the ingredients of LIGHTING UP THE TWO-YEAR OLD, a terse comic drama that easily maneuvers in the world of North Florida stables as well as the one of South Florida yachts. In the shadow of a once-powerful stable owner, a trainer conspires with a groom who gambles, and an owner's son with a money problem, to save the farm…in the process betraying the horses, each other and themselves.