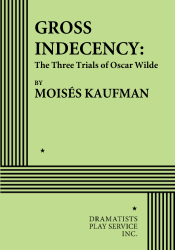 Full length, Drama
9 men (flexible casting)
Total Cast: 9, Flexible Set
ISBN-13: 978-0-8222-1649-0


MIN. PERFORMANCE FEE: $105 per performance.
THE STORY: In early 1895, the Marquess of Queensberry, the father of Wilde's young lover, Lord Alfred Douglas, left a card at Wilde's club bearing the phrase "posing somdomite." Wilde sued the Marquess for criminal libel. The defense denounced Wilde's art and literature as immoral, leading the prosecuting attorney to declare, "It would appear that what is on trial is not Lord Queensberry but Mr. Wilde's art!" In the end Queensberry was acquitted, and evidence that had been gathered against Wilde compelled the Crown to prosecute him for "gross indecency with male persons." With Wilde's arrest, his hit plays running in London's West End were forced to close, and Wilde was reduced to penury. A second trial ended in a hung jury with Wilde's impassioned defense of "the love that dare not speak its name," prompting a third trial. In the third and decisive trial, Wilde was convicted and sentenced to two years imprisonment at hard labor. He was separated forever from his wife and children, and wrote very little for the rest of his life. In addition to Wilde, Douglas and Queensberry, characters ranging from Queen Victoria to London's rent boys, to a present-day academic are assembled to explore how history is made and how it can be so timely revisited in the theatre.
GROSS INDECENCY uses trial transcripts, personal correspondence, interviews and other source materials to tell the story of the downfall of the great man of letters whose artistic genius has long been overshadowed by the scandal surrounding his imprisonment.

"His style was his umbrella, his armor, his all-purpose defense system, and for many years it seemed to shelter Oscar Wilde most effectively. There came a moment, however, in 1895 when the playwright was betrayed by his own wit, after which he would never again be able to gain control of his life. In the absolutely gripping GROSS INDECENCY: THE THREE TRIALS OF OSCAR WILDE, written and directed with a scintillating style of its own by Moisés Kaufman, that moment is identified with such startling precision and clarity that it feels like the inexorable moment of reversal in a classic tragedy." —The New York Times.

"A triumph…truth, purity, and simplicity suffuse [this] thoroughly engrossing new play…sweeps away cobwebs and distortions, allowing complex, credible human beings to emerge from history." —Washington Post.

"A dazzling coup de theatre, at once compelling history and chilling human drama." —Time Magazine.

"Stunning…taut, shattering, yet delightfully exuberant…altogether fascinating." — Newsday (NY).