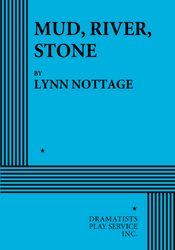 THE STORY: An African-American couple vacationing in Africa takes a turn off the main highway and find themselves stranded during rainy season in the remnants of a grand hotel. The rundown colonial hotel's only inhabitants are a reticent bellhop and an outspoken white African businessman. As the rains continue, the guest list grows to include a Nigerian aid worker at wits' end and a Belgian adventurer wandering the landscape in search of meaning. The couple's comic and romantic adventure takes on absurd dimensions when the hotel guests are taken hostage by the angry bellhop. His demands are simple: He wants grain for his village and a wool blanket for his mother. The stakes increase when an international mediator arrives and tries to end the stand-off. The couple's relationship is tested by the volatile politics of Africa, and they learn what the hungry human spirit will do for food and a warm blanket.
MUD, RIVER, STONE begins with a notion: a romantic journey to Africa, an opportunity to get in touch with spiritual roots. It becomes a most unexpected and bizarre adventure.

"…a brilliant idea for a play…an evening of fascinating insights." —New York Daily News.

"Each of Nottage's characters is a rich bundle of ideas and issues, as well as a sharp but sympathetic psychological portrait." —Village Voice.

"Playwright Lynn Nottage pulls off a deft bait-and-switch with her new play: She seduces us into believing we're settling into a sardonically funny vacation-from-hell travelogue, then brings in elements that are violent, disturbing and deeply thought provoking." —Newsday (NY).