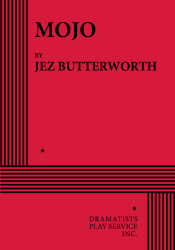 Full length, Comedy/Drama
6 men
Total Cast: 6, Interior
ISBN-13: 978-0-8222-1661-2


MIN. PERFORMANCE FEE: $105 per performance.
THE STORY: Silver Johnny is the new singing sensation, straight out of a low-life Soho clubland bar in 1958. His success could be the big break for two dead-end workers in the bar, if they play their cards right and trust the owner of the place to make a good deal with the local money mogul. Before they can dream what to do with all the money they'll make, the owner turns up dead, Silver Johnny disappears, the second in command takes over the bar, and power positions are juggled about. Going through the uppers and downers filched from pocketbooks, and trying to keep a lid on the precocious anger of the dead owner's son, the band of losers figures out the law of the streets and who killed the boss, but not in time to save one of their own, and perhaps their souls.
Winner of the 1996 Olivier Award for Best New Comedy.

"The language, blunt and coarse and often hilarious, pours out of the characters with the force of the blaring jukebox rock that forms a leitmotif for the dark, violent action." —Chicago Tribune.

"This is Beckett on speed, savagely funny, in fast forward, with no time to wait for Godot…" —New York Observer.

"Brilliant might cover it." —Mail on Sunday (London).