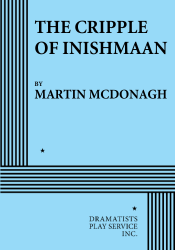 Full length, Comedy/Drama
5 men, 4 women
Total Cast: 9, Flexible Set
ISBN-13: 978-0-8222-1663-6


MIN. PERFORMANCE FEE: $130 per performance.
THE STORY: Set on a remote island off the west coast of Ireland in 1934, THE CRIPPLE OF INISHMAAN is a strange comic tale in the great tradition of Irish storytelling. As word arrives on Inishmaan that the Hollywood director Robert Flaherty is coming to the neighboring island of Inishmore to film Man of Aran, the one person who wants to be in the film more than anybody is young Cripple Billy, if only to break away from the bitter tedium of his daily life.
"Beneath the volley of barbs and loopy postures lies the same bedrock of wistfulness and exasperation that makes BEAUTY QUEEN so poignant. Mr. McDonagh has again created characters for whom the line between cruelty and kindness is slender…the script features some unsettlingly surprising demonstrations of both affection and aggression." —The New York Times.

"McDonagh's…comic talent appears unlimited, and he also has a way…of mixing up his humor with a touch of the poet and a profound sense of tragedy always dangerously lurking on comedy's untidy fringe. In short, young McDonagh is a playwright to reckon with…" —New York Post.

"…McDonagh's storytelling style…has the clarity and power of fable. Each character enters not only with his own idiosyncrasy but with his own distinct idiom. McDonagh skillfully juggles rhythms and repetitions so as to illuminate the sadness, defensiveness and longing for connection underneath the characters' badinage." —The New Yorker.

"McDonagh…is at root an Irish realist in the tradition of Synge, O'Casey, Friel and Billy Roche. He is also a born storyteller with a precocious sense of dramatic structure." —The Times (London).

"Mr. McDonagh [is] a realist with rich gifts…[He] is immensely talented and bizarre." —New York Observer.